This is what Christmas at our house looks like every year: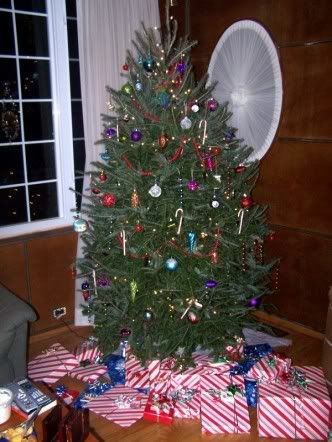 Andrea and I get a real tree and trim it together. We've made it a tradition that she single-handedly carries the tree up the stairs to the house (I'm afraid of being poked by the needles) over her head. I can't find the picture for it, but it's usually quite the sight.
The general celebration of Christmas at our house is pretty awesome thanks in no small part to Andrea. She single-handedly puts much of the Christ back in Christmas, with great big gobs of generosity. Over these last few years, she's managed (probably without really knowing it) to make me want to celebrate this holiday again with all of the excitement of a child, and stop complaining about all the commercialization of it, because there are people (many, in fact) out there who don't really buy in to the commercial parts of it. Rather, it's about love, family, giving, and celebrating old [and making new] traditions. Over the years, and between the two of us, we've managed to create traditions of making and sharing candy, giving to charities, donating toys, invoking the spirit of St. Nikolas, hanging (and filling!) stockings, trimming the trees (with a pickle!) and even sprinkling lots and lots of warm Christmas cheer onto the cold hearts of a couple of ersatz Scrooge McDucks (even if Christmas cheer
does
come in the guise of Gluehwein and hot, mulled spirits!). It's a great time to watch people come around to our version of celebrating the holiday. It's a beautiful thing.
So here's to Andrea for always making Christmas into the stuffs of Rockwell.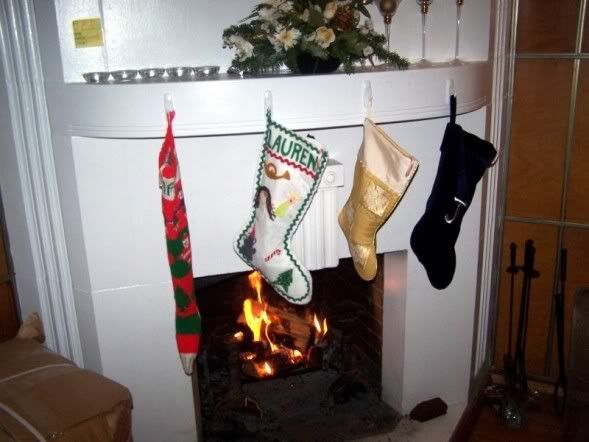 On second thought, we're way better than Rockwell!
Merry Christmas to all!